Failure of a Retail Pattern
This week we are taking a look at how we capitalise on the failure of some typical retail trading patterns. This is not to say that these never work we play the failure every time, but knowing how to read the signs that the failure of the pattern is high probability allows us to capitalise on these in both directions.
Let's jump straight into an example of $AUDUSD back in April 2021. The four-hour time frame isn't generally one we will use to execute or analyse on but it can sometimes help neaten up the chart, in this example it allows us to clearly see the Head and Shoulders (H&S) pattern.
Moving onto the H1 time frame we get our first indication that this H&S could fail, a swing failure hammer at the neckline. What do I mean by this? We have a hammer that as pushed lower through the neckline of the H&S but has closed back above the level. Anyone with a sell stop on the neckline to get short playing on the successful completion of this pattern is immediately on the back foot.
The two horizontal rays on the chart highlight the highest point of the right shoulder and the head of this H&S pattern. Our first target would be the right shoulder and the second would be the head.
Even if you missed this entry there were still ample opportunities to enter, let's take a look at some other entries that we could use to target the right shoulder.
Three possible entries:
1 – Swing failure hammer at the neckline of the H&S
2 – Bullish engulfing away from the neckline
3 – Hammer and a thrust away through structure, the entry here would be the retest of the H1 hammer head.
We have seen three possible entries to target the right shoulder but it doesn't end there, even if you missed all of these entries, a play for the head of this H&S pattern is still valid.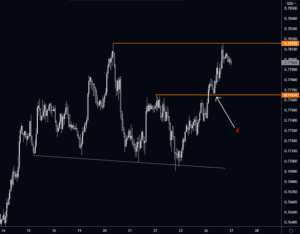 A rounded retest of the right shoulder could provide a great trade up to the head to complete the failure of this H&S pattern.
If you would be interested in learning more about the strategies we trade on a day-to-day basis check out our Advanced Trader Course where we cover examples like this and much more.
Until next week, safe trading!
Jake